Long Term Service Life of Conveyor roller chain
Please tell us the detailed specification of the roller chain you require, then we can manufacture it based on your requirements.
Besides the wire mesh conveyor belt, we can also manufacture and supply matching roller chains. As long as our customer provide the detailed specifications based on our drawing, or our customer order the same conveyor belt from us, then we can make the matching chain for this belt. Those chains can be standard size or non-standard size, for various applications. Standard like: 2040, 2042, 2050, 2052, 2060, 2062, 2080, 2082 and so on. The chain material can be mild carbon steel and stainless steel.
See below some chain pictures: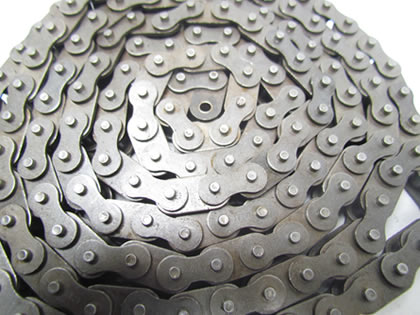 Roll of roller chain made of mild carbon steel.
stainless steel roller chain made of even structure.
Roller chain with shorter length.
We can also make flange on the roller chain.
Roller chain made of stainless steel can better anti rust.
Stainless steel roller chain is corrosion resistant.
Applications of our roller chain:
We can make roller chain meet the structure the conveyor belt.
Our roller chain can well bear the weight of conveyor belt as well as the stuff on it.
Inquiry for Our Product
When you contact us, please provide your detail requirements.
That will help us give you a valid quotation.